Students' Mental Health Day campaign
16.4.2018 - 29.4.2018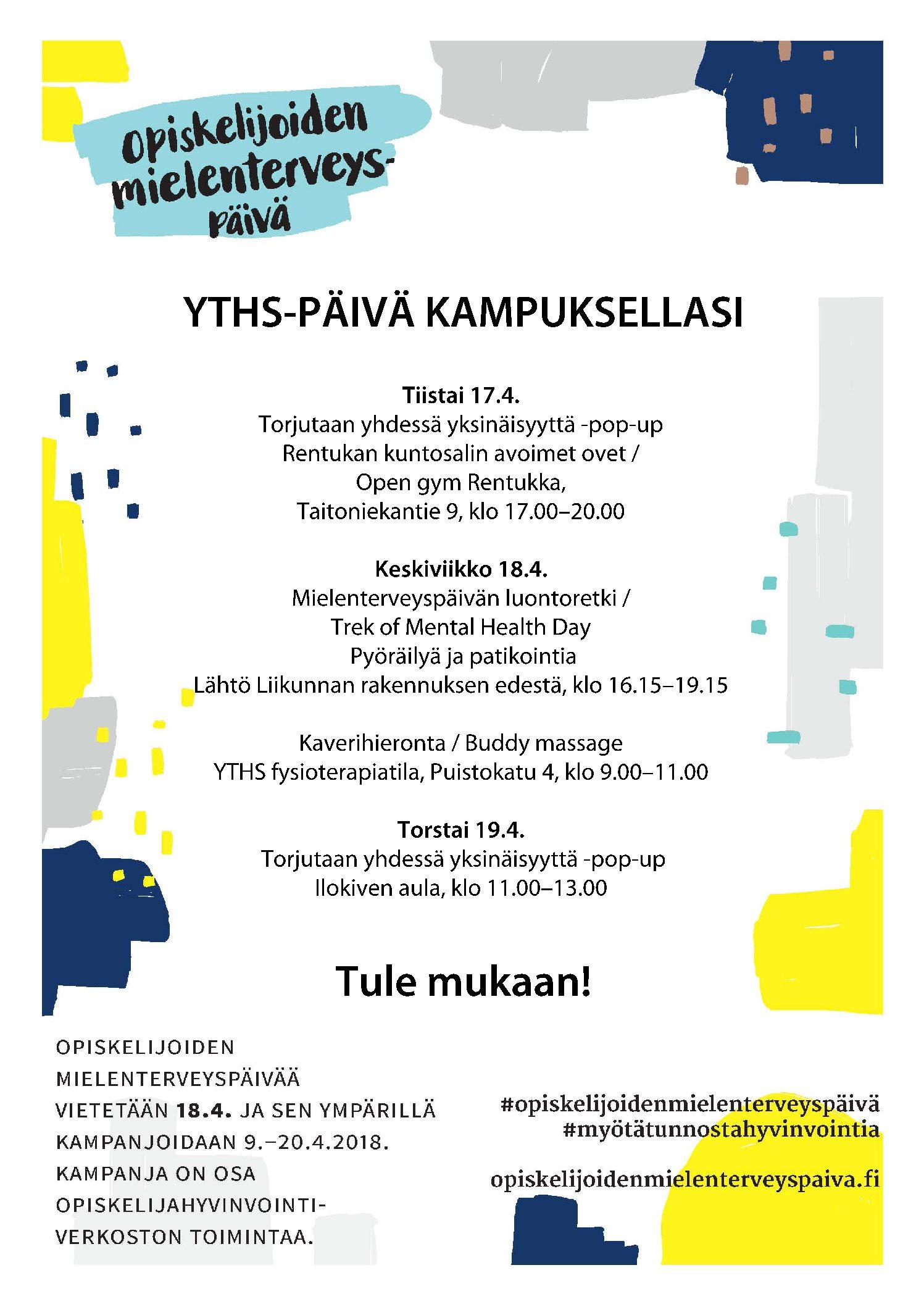 What's happening in Jyväskylä?
The theme "loneliness" is present at the Finnish Student Health Services (FSHS) unit during the whole week. "Let's eat together" -tables open for all kind of chatting are organized in the student restaurants of Sonaatti during the week.
Monday 16.4.
Student well-being network day
Time: at 11.30 – 15.30
Place: JYU Ruusupuisto-building, Alvar Aallon katu 9
Tuesday 17.4.
Rentukka gym open doors all day
Time: at 17.00–20.00 (pop-up and instructor at the gym)
Place: Kortepohja meeting place Rentukka, Taitoniekantie 9
Wednesday 18.4.
Trek of Mental Health Day
Cycling and treking with the Academic Sports and JYY!
Time: at 16.15–19.15
Place: Trek starts in front of Liikunta-building
https://www.facebook.com/events/2035567163350199/
Buddy massage
Time: at 9.00–11.00
Place: FSHS physiotherapy room, 3rd floor, Puistokatu 4
Thursday 19.4.
Come colour a way out of loneliness!
Pop-up by FSHS at Ilokivi lobby
Time: at 11.00–13.00
Place: Ilokivi lobby
Friday 20.4.
YMCA Hackathon
So that no-one would be left behind.
YMCA Hackathon is a weekend event open for all over the age of 18, where we discuss the obstacles of digitalizing society and come up with ideas how to break them.
Time: 20.4. 18.00 – 22.4.2018 14.00
Place: Kansalaistoimintakeskus Matara, Matarankatu 6
http://www.ymca.fi/hackathon-jyvaskyla/