What is Sports Tutoring?
A Sports Tutor is a student who's mission is to familiarize new and old students with different sports and activity options and services in Jyväskylä. A Sports Tutor coordinates a group of students who are interested in moving together and getting to know new hobbies or sports possibilities. The group can together test the University Sports different fitness classes, try out different ball games or check out the best local outdoor activity spots. The idea is to encourage students to try new activity options with the support of their own peer group!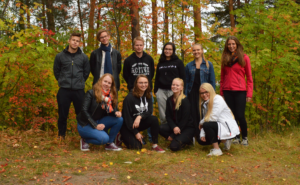 The sports tutoring groups are open for all students and they are formed according to different interests. You can choose to join a group that is  specifically for students looking to find joy in sports in great company or that is interested especially in ball games or body weight training.
Choose the group of your interests and sign yourself up by 23rd of September!