A Survival Kit is a package of basic domestic items needed in everyday life. The Student Union JYY offers this service for exchange students of the University of Jyväskylä. Our goal is to make the arrival and first days in Finland a tad easier.
Students living in Kortepohja Student Village don't need a Survival Kit, as the furnished apartments include kitchenware, blankets and pillows.
Interested in a Survival Kit?
If you wish to have a Survival Kit, let your tutor know when they contact you. They will book the Kit for you pick up the Kit on your behalf before your arrival. Check your Kit when you get it and make sure that everything is included. If anything is missing, broken or dirty, please report the faults to survival-kit at jyy.fi within 3 days.
Kit contents
The overall condition of a Survival Kit is always very good. However, individual items vary in colour, size and times of use.
A Survival Kit contains the following items:
a duvet blanket
a pillow
a bottom sheet
a blanket cover
a pillowcase
a large plate
a small plate
a deep plate or a bowl
a glass
a mug
a set of cutlery (fork, knife, table spoon and tea spoon)
a ladle
a pot with a lid
a large bag to carry everything in (a.k.a. Ikea-bag)
Survival Kit Form and Guide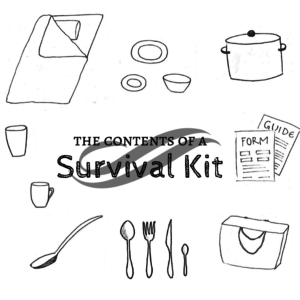 Kit payment
The Survival Kit costs 70 €, part of which is a deposit and will be given back upon returning the Kit if the items are in good and clean condition.
The payment should be made within 4 weeks of arrival at the Student Village Office in Kortepohja, Taitoniekantie 9. See opening hours and exact location on the Student Village website. We accept cash and card.
Take your Survival Kit Form with you when you pay – payment isn't possible without the Form.
Returning the Survival Kit
To return the Survival Kit, be sure to make an appointment. Contact the Survival Kit officer in survival-kit at jyy.fi at least a week in advance. To return the Kit you need:
All the items washed, cleaned, in one piece and in good condition
Student Card to prove your membership of the Student Union (card or FrankApp)
(non-members) your ID card to prove your identity
Your copy of the Survival Kit Form
Upon returning, members of Student Union are refunded 50 € (non-members 30€) if the Kit is returned in good and clean condition, and the items match the quality markings of your Kit form. A fee will be deducted from the deposit for any missing, damaged or dirty items (prices listed on the Survival Kit Guide).
If you're unable to return the Kit yourself, you can authorise a friend by writing a signed power of attorney. If you're a member of the Student Union, send a picture of your student card to survival-kit at jyy.fi, or attach a photocopy of your card to the authorisation letter.
All returns are handled in the Student Village Office in Kortepohja, Taitoniekantie 9.
Further information
If you have any questions on the fees, how to cleanse a burnt pot, in which temperature to wash the blanket, or anything else, feel free to ask.
All questions and concerns will be answered at survival-kit at jyy.fi.