The student union JYY has decided in a meeting of the representatives' council on September 22 to name Jenni Suutari as a candidate for the board of SYL (The national union of university students in Finland) for 2023.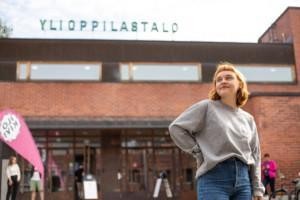 Suutari currently works as the Vice Chair of JYY's board and is responsible for education policy. Suutari is a third-year student at the University of Jyväskylä, studying social sciences. 
-Education is one of the cornerstones of a healthy society. At the moment, however, there are many factors limiting the accessibility of higher education, including the increase in education fees and admission policies aimed at streamlining studies. I want to work to decrease these roadblocks, Suutari emphasizes. 
The chairperson of JYY's board Aija Hokkanen has worked closely with Suutari and is impressed with her skills and vision. 
-It has been a great joy to work with Jenni. Throughout the year, she has shown great vision, willingness and drive to influence education policy and students' standing as a whole. I'm very happy with the representatives' council's decision because I think Jenni so well represents the skills and the vision that JYY has to offer to the student movement and SYL, says Hokkanen. 
In the year of the parliamentary election, Suutari wants to bring more vocal, influential and relentless trusteeship know-how to SYL. 
– I bring to SYL a solution-oriented approach, in-depth knowledge of different themes around education and social policy, a thorough knowledge of the political field and experience from influential campaigning and lobbying, Suutari comments. 
SYL's board for 2023 will be elected in the general assembly in Espoo on November 18 – November 19.