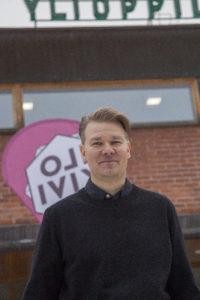 The Student Union of the University of Jyväskylä has chosen Ismo Puhakka as the Member Services Secretary for the next 15 months. The current Secretary will be absent due a study leave.
Puhakka has graduated M.A. from the University of Jyväskylä and PhD from the European University Institute (EUI) in Firenze. Earlier Puhakka has worked with construction industry and events production.
–It is great to be a part of active student community and I am eagerly waiting for new challenges. I want to work towards a better student life and association community in Jyväskylä.
The recruitment team was convinced by Puhakka's wide know-how and experience in development work.
–Ismo is a unique package of creativity, boldness and calmness. I strongly believe that our members will be able to leave the office with a big smile in their faces due to Ismo's great people skills, says JYY's Executive Director Minna Oinas.
Member Services Secretary is in charge of the daily customer service and will be the first contact to the Student Union for many new students. Member Services Secretary gives advice and assists associations, organizes training and coordinates associations grants
More information
Minna Oinas
Executive Director
toiminnanjohtaja@jyy.fi
+358 45 138 6816