Altogether 254 candidates are running for the Council of Representatives of the Student Union of the University of Jyväskylä. 9 different electoral alliances are taking part in the election. The number of candidates this year is higher than in the previous elections in 2015 (194 candidates) and in 2013 (220 candidates). Members of the Student Union will be electing the new council on November 6-8, 2017, with advance voting on November 2-3, 2017.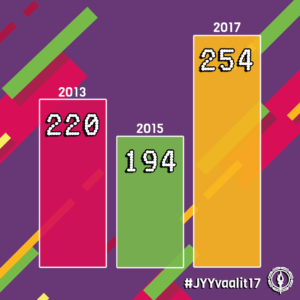 "I'm very pleased that we have so many candidates this year, this is awesome! The alliances have really invested in searching for candidates and they've found many interested and enthusiastic students to run as candidates. Hopefully this high number of candidates activate the alliances even more and will shows as great campaigning around the campus!", says the Chair of the Central Election Committee of the Student Union of the University of Jyväskylä Emmi Ahola.
The elections are arranged electronically via internet with the students' personal university username and password. Voting is possible on voting days from 8:00 until 20:00 on Student Union's website www.jyy.fi, with devices connected to internet. The Student Union also organises polling stations around the main campus.
In the election the Council of Representatives will be elected for the term 2018-2019. The 41 members of the Council make the most important decisions concerning the Student Union, such as membership fee, budget and new statutes. The Council meets about once a month. The meetings are open for all members of the Student Union.
See the list of all candidates here: https://jyy.fi/en/election/candidates/
More info
Emmi Ahola
Chair of the Central Election Committee of the Student Union of the University of Jyväskylä
0509173531
emmi.h.ahola@student.jyu.fi
Eetu Kreivi
Executive Director of JYY
045 138 6816
toiminnanjohtaja@jyy.fi